---
Dear Cuckfield and Local Residents,
During our temporary closure, The Wheatsheaf Inn Cuckfield is offering a brand-new Special Delivery Service of our delicious Homecooked Menu.
For the foreseeable future we will be serving our Takeaway Menu with an additional HOME DELIVERY option. This will be available 5pm-8.30pm Wednesday to Saturday with our Superb Sunday Roasts available for delivery 12 noon-4pm. Please call us to arrange a pick-up or delivery time.
Our Kitchen is open for takeaway and delivery meals only and we would like to reassure everyone that we continue to uphold our high standards of hygiene in every aspect of our business.
We boast a 5 Star Environmental Health Hygiene Rating!
The Bar is closed but a Guest Ale and Draught Lager will be available to Takeaway along with wine and other bottled beverages. Please Bring Containers where possible.
Please collect takeaways from the "underbrollie" area.
A member of Staff will be there to assist without you having to enter the premises.
Rob, Nik, Vicky, Will and the Wheatsheaf Team would like to thank you all for your wonderful support over the last 11 Years and we hope to see you all again very soon.
Please Call in advance 01444 454078 to arrange a Collection or Delivery time.
Kindest Regards,
Rob, Nik, Vicky, Will and the Whole Wheatsheaf Team.
Takeaway Beer, Wine and Soft drinks are available. Please ask for more details.
Children's meals and Specials are available on request.
Within Cuckfield a £2.50 delivery charge will be added to orders under £25
All Deliveries outside of Cuckfield £2.50. Minimum order £20
Subject to Availability.

The Wheatsheaf is hosted by Nik Cobley and Rob Helliwell – both have extensive experience in the trade and are proud to be able to offer a delightful venue in which to relax, enjoy a delicious meal or a drink , or a stay in one of the newly refurbished en-suite bedrooms. The Wheatsheaf is the perfect base for your relaxing break or your business trip
The nineteenth century Wheatsheaf Inn is situated on the B2184 on the edge of the historic village of Cuckfield.
The mainline station of Haywards Heath is a short distance away and offers an excellent service to London in under an hour.
Gatwick Airport and the South Coast resort of Brighton are within easy access, together with the City of Chichester and many famous local attractions including Hickstead Showjumping, Wakehurst Place, Glyndebourne Opera House, Ardingly Showground and both Goodwood Racing Venues. We are central for both coastal and countryside excursions.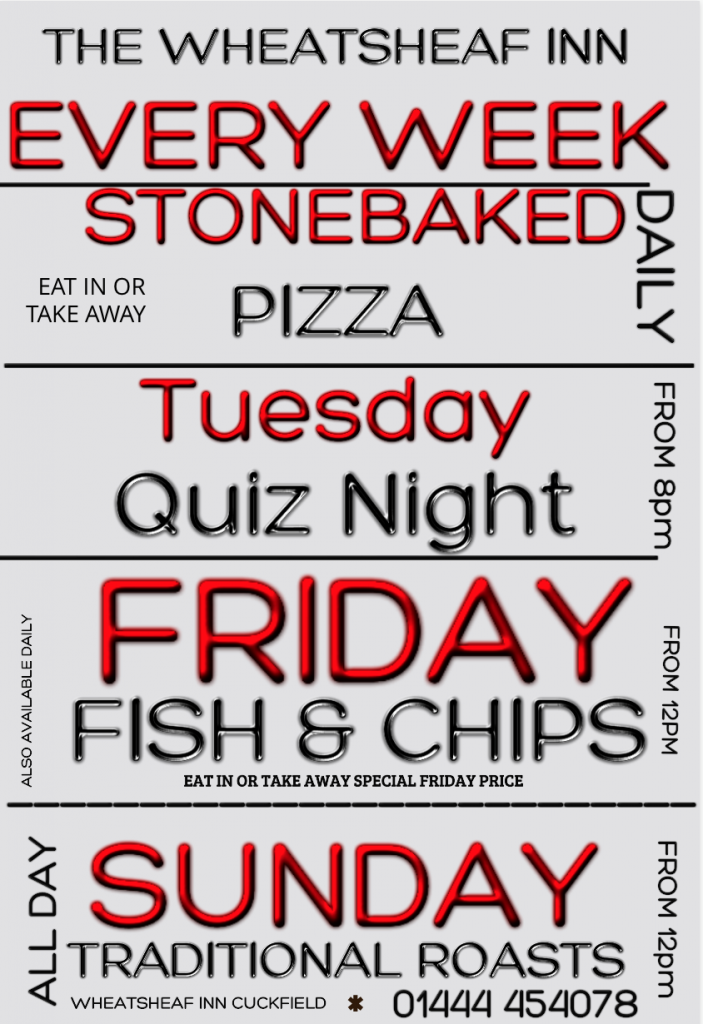 WiFi access is available to all customers upon request.
Our opening times are:
Monday – Sunday 8.30am – 12.00am
Food Served:
Mon – Thurs Lunch 11-2.30pm
Mon – Thurs Dinner 6-9pm
Fri/Sat All Day 11 – 9.30pm
Sunday Roast 12 – 8pm
We also serve BREAKFAST… 7 days a week – 7.30-11.00 (Mon-Fri) 8.30-11.00 (Sat-Sun)